FAKE BAPE
Avoid fake BAPE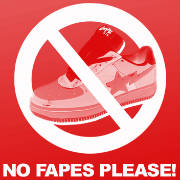 Due to the popularity and prices of BAPE products it is a inticing brand for counterfeit operations.  Often times people are unaware that they are buying knock off products.  This is not right because people are getting ripped off paying money for something which ends up being a worthless fake.  If you want to get authentic BAPE products then the best bet is to go directly to the closest store.  If this is not an option for you, then you can look online however this is where it becomes hard to verify items without physically being able to see and touch them.  There are some noticable differences which can be seen between fake BAPE products and genuine products so make sure you see a couple pictures of the items you are buying and from different angles.  Always request a picture of the clothing tag with the washing instructions and size printed on it this will not be on most fakes or will look very crappy.  Here you can find lots of tips to help you out as well as some videos.  There is also a list of shame with all the known counterfeit sites on the net, as well as usernames of people selling fake BAPE products on eBay and other auction sites.
When looking for BAPE or when buying you have to be careful that it is not FAPE. Right now there are plenty of sites and stores which sell knock off BAPE products. Some sell the real deal but when paying over the internet it is important to make sure that you are not getting ripped off. Due to the hefty price tag and because the shoes are so hard to get, there are a plethora of fakes out there. These counterfeit shoes are known as FAPEs, which is short for "Fake Bapes." If you want authentic Bape shoes, you should only purchase them from a trusted retailer. Nearly every BAPE you see people wearing is fake. There is only one store in the United States that even carries real BAPEs, and that is located in New York. Below are several other tall tail signs to see if a BAPE is fake:
1. Sizes that are not produced by BAPE ie. 3XL , 4XL
2. Too low a price. As the saying go if it is to good to be true then it probably is. (shoes range from 200-1000$, hoodies 500-600$, etc)
3. If purchased online, it is most likely fake. Only purchase bapes in stores.
4. Sleeve tag , milo,ape should be centered. for baby milos , inside of sleeve tag should have the word milo with pink,red alternating diagonally
5. Inside lining , should not be fleecy , should feel live woven cotton
6. Stitching , there should be few or no loose threads
7. Color should be vibrant, not dull.
8. Fabric , should be a tight knit , when u pull apart the fabric u should not see any spacing or white
10. Plastic ziplock bag should have a white tab with factory sticker of size
11. All bapes along with that camo tag hanging, are made of very vibrant colors. if they are dull, even for the camo tag, chances are it is fake.
12. All bapes, BUT NOT baby milos have a silver zipper. be careful. recently I have seen fakes with silver zippers. they should say YKK on the back.
13. THE CARE TAG. The care tag near the hip area inside the hoodie should be somewhat the same font. Remember though, some fakes will have the same font.
14. All authentic items are made from the best materials
15. Look for any words not spelled correctly on the CARE tags.
Eventually all great clothing lines are targeted for counterfeiters. Unfortunately that is how you know you made it, is when someone is looking to make money off of you. Even though Bape has been around since 1993, it really hasn't been a standout product until recently so there have been more fakes all over the world. Because the line was recently hitting the big time no one knew how to spot a fake also known as FAPE!.
If you are in the market to buy a Bape article of clothing, here is how to spot a fake. For starters Bape DOES NOT produce 3XL or 4XL. Another way to spot a fake Bape is that if the price is too cheap then it is a fake. On the sleeve tag of a Bape article of clothing should be centered. Any tag on the back or front is a fake.
The inside lining should feel like cotton not fleece, the feel the same so if you aren't sure don't buy it. On Bape articles of clothing the stitching is nearly flawless it may have a loose thread or two but if the inside stitching is ratted it is not a Bape.
The colorway on all Bape articles are vibrant colors, the colors are never dull. The fabric should be pulled tight; if it is loose it is not a Bape. When you pull part the fabric you should not see any spacing or whiteness at all. The Plastic zip lock bags that these items come in should have a white tab with a factory sticker of size. Most Bapes but not including the Baby Milo line has silver zippers. The zipper should say YKK on the back of the zipper, if not then the item could be a fake.
Check the clothes tag all Bape materials are the best of the best materials, the care tag that is located near the hip area inside the foodies and all writing should be in the same font, fakes will have the same so be very careful.
If you see Bape items on eBay there are some scammers who try to pass off the clothes as authentic Bapes. Here are some key things to look for. Anyone who has a one day auction is most likely selling a fake. If you see an auction with a limited amount of pictures then it could be a fake. If the Bape is authentic then the person selling it should be able to take pictures of all the tags and if they can't provide back images of the tags then stay away.
That is what happens with all great clothing lines, you have the danger of things being fake especially when you buy something online you won't know until you pay for it and by the time you get it the culprit may disappear and long gone! So be careful and extra cautious!
So where do I buy Authentic Bape?
The best and also the cheapest way to buy A Bathing Ape products is through eBay. There is quite a few sellers on eBay that are selling fake Bapes so beware! But you don't really have to worry about those scammers since here im going to list legit A Bathing Ape eBay sellers, they are:
Pondon, Plainflour, Tokyoape and Fateuk.
You can just easily check their eBay feedbacks and you will see a lot of positive comments and very happy buyers so this sellers are for real and will NOT sell you fake Bapes at ALL! I know personally because I have bought quite a few Bape items from them as well 😉
3 comments