bapefan
This user hasn't shared any profile information
Home page: http://www.bapeinfo.com
Posts by bapefan


0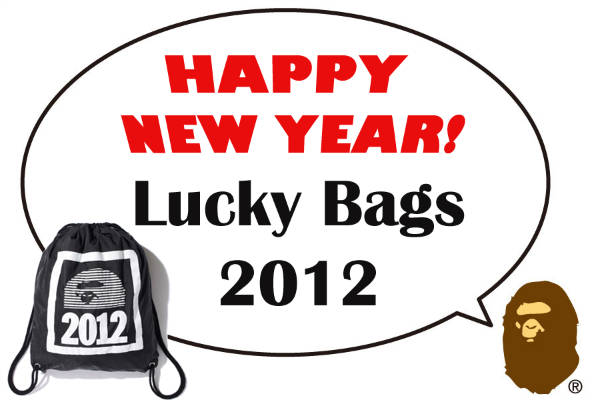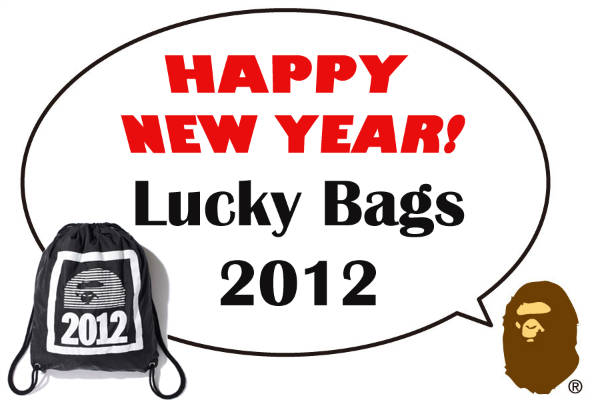 I can't believe it but I totally missed out on the BAPE lucky bag for new years 2012. It was a busy time of year and I didn't even think about it until today. To make things even worse, it looks like this years bag was even better then last years. If you have no idea what I am talking about when I say lucky bag, then read on. Every year, BAPE releases a 'lucky bag' which is a Japanese tradition. You pay for a mystery bag which contains some items that is completely unknown. This adds some surprise to the event and makes it a bit more fun then just going into the store and buying something as usual. Think of it like a lottery. This year, the bag cost $259 however you always end up getting items that are worth much more then the money spent. For this reason, it is always a popular event and people line up to get them. Last years bag was $200 so the price has gone up, but as I mentioned the items this year were a bit better. Since I didn't get one, I will post a youtube video showing someone who did. The video goes into good detail of all the items and as you can see, the price is well worth what you end up getting. If you want to check out last years bag, check out my post for the BAPE Lucky Bag New Years 2011.
[youtube]6QFAu7Op6i4[/youtube]

2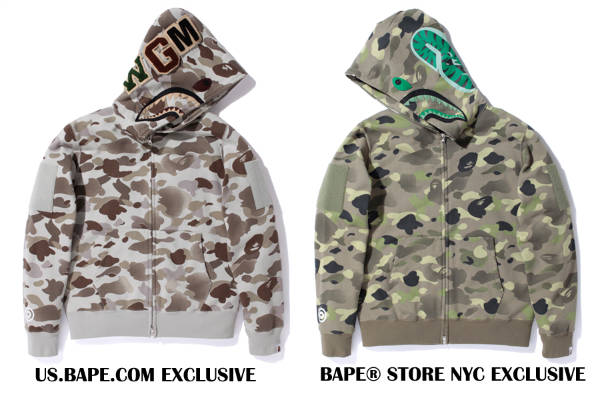 A Bathing Ape New York has released two new exclusive items from the BAPE Gradation series line. The release features two new zip up shark hoodies. The olive colour hoodie is only available in the BAPE NYC store, however the beige Bape gradation hoodie can be purchased exclusively on the us.bape.com website. The hoodie is 100% cotton and features morale patches which can be removed easily if desired. The price tag for this limited time release is $446 USD. The available sizes are medium, large, and extra large. Make sure you act quick if you want to get your hands on these, I guarantee that they will sell out fast. If you have checked out the other items in the BAPE Gradation series, then make sure you have a look at these other items as well.

0
Hope you all had a Merry Christmas this year. This year has certainly come and gone quickly. BAPE has already started releasing news of upcoming collections and they look great so far.
I am especially excited for the new Bathing Ape Star Wars collection. If you missed out on the previous BAPE Star Wars Collection, then make sure to check it out as well. Personally, I prefer the products in this new collection more then the first one. Check out some of the products below.
There are two new full zip hoodies released in this collection. The one to the left features the Star Wars characters (Storm Trooper, Darth Vader, C3PO, Baby Milo, and Luke Skywalker). The other style blue and shows the Star Wars Galaxy with an X-Wing and Death Star in space. To see the other style, click on it's thumbnail image below.

The price for the Star Wars character hoodie is $310 USD

The price for the Star Wars Galaxy hoodie is $321 USD
I wish this shot glass set had come out before Christmas so I could have put it down on my wish list. The set comes with four shot glasses with the following designs.
Baby Milo, R2D2, C3PO, and Chewbacca
Baby Milo, and R2D2
Baby Milo, R2D2, and Jawas
Baby Milo flying an X-Wing
The price for the whole set is $92.
---
Hopefully BAPE releases a third set in this collection. It would be awesome to see some Star Wars BAPESTAs, or other styles shoes from this collection. They should also release a Darth Vader, and Boba Fett full zip hoodie.
0
Christmas is almost here and if you're like me, then you havn't even began shopping yet. Already the stores are getting crazy, so why not just buy things online and have them shipped right to my door.
Obviously, BAPE clothing is a great gift however if you don't want to spend too much why not get someone some of these books.
[amazon_link id="0847830519″ target="_blank" container="" container_class="" ] A Bathing Ape (Hardcover) – By Nigo[/amazon_link]
[amazon_link id="0847834344″ target="_blank" container="" container_class="" ]KAWS (Hardcover) [/amazon_link]
[amazon_link id="1844137864″ target="_blank" container="" container_class="" ] Wall and Piece (Hardcover) – By Banksy[/amazon_link]
[amazon_link id="0847833119″ target="_blank" container="" container_class="" ]Supreme (Hardcover) – By James Jebbia Featuring KAWS[/amazon_link]
[amazon_link id="389955292X" target="_blank" container="" container_class="" ] Faile: Prints + Originals 1999-2009 (Hardcover) – By Faile [/amazon_link]

0
We have been on vacation the past couple months working on some projects but will be back to the full time reporting.
For now, accept this new BAPE Halloween wallpaper as a token of appreciation for your patience.
Enjoy, and Happy Hallowe'en.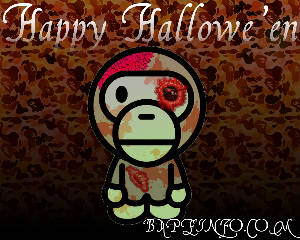 Click on the thumbnail image above to get the full-sized background image. Also, don't forget to check out all of the other BAPE Wallpapers.
bapefan's RSS Feed